Florida Boating Course Details
The Florida boating course is 100% online
No classroom attendance is required
No materials to purchase
No extra fees
Free downloadable certificate to start boating!
How to get a Boater Education Identification Card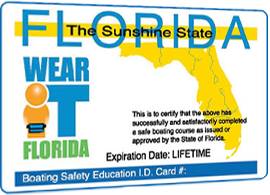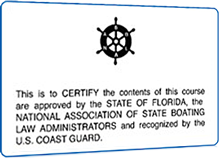 Take this course which is approved by the Florida Fish and Wildlife Conservation Commission (FWC) and the National Association of State Boating Law Administrators (NASBLA).
Score 80% or better to pass the course exam.
Download your certificate instantly to get boating right away
Wait for the Florida Fish and Wildlife Commission to issue your permanent education identification card. You will have the option to receive a physical card in the mail or an electronic card sent through email.
You should receive your official digital card from the Commission within 2 weeks of completing the course or the physical card within 3 to 4 weeks.
How to Replace a Lost Boater Education I.D. Card
To replace a lost boater education identification card, submit proof of course completion to the Commission at the following address, along with your name, date of birth, return address, and phone number:
Florida Fish and Wildlife Conservation Commission
Boating Safety Section
620 South Meridian Street
Tallahassee, FL 32399-1600
Refund & Payment Policy
You have up to 6 (six) months to complete the online course and test. If you do not complete the course within the allotted time, re-registration (and a new payment of the course fee) will be required. No refunds will be given if you have completed the course.
Testing Policy
By taking this course you agree that the online course testing must be completed unassisted by any person, the course materials or other materials.
Commitment to Privacy
We recognize the importance of protecting your personal information.
We are committed to safeguarding your privacy online.
This website does not collect personally identifying information about you except when you specifically and knowingly provide it.
We take reasonable precautions to protect your personal information.
When we do collect personal information, we use this to help us better serve your needs, such as through the provision of services or information that may be of interest to you.
While this information may be made available within our network of affiliated organizations as we provide services to you, we do not sell or rent your name or personal information to any third party.
We do not sell or rent our mailing list.
This Privacy Policy covers this website's treatment of personally identifiable information that we collect when you are on the website and when you use our services.
Personally identifiable information includes, but is not limited to, first and last name, physical address, zip code, email address, phone number, social security number, birth date, credit card information, financial information, and other sensitive information necessary to provide the associated services.
If, however, we are required by law to comply with a valid legal requirement such as law, federal regulation, search warrant, subpoena or court order, we may be required to release personal information.
Commitment to Data Security
We strive to make certain that our computer systems, servers and connections incorporate the latest encryption and security devices. To prevent unauthorized access, we have implemented procedures to safeguard and secure the information we collect. In addition, credit card and personal information are transmitted to us by secure servers.