The Easiest Way to Meet Your Florida State
Boating Requirements!
Who needs a boater safety education card in Florida?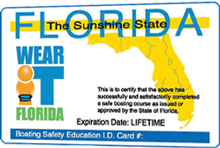 Florida Boating Safety Educational Requirements were updated Jan. 1, 2010. This update requires boat operators who were born on or after Jan. 1, 1988, to obtain a Florida Boating Safety Education Identification Card in order to operate a motorboat with ten horsepower or more.
If you were born on or after the Jan. 1, 1988, cutoff date, you can complete our online course to obtain a boating safety education ID card issued by the Florida Fish and Wildlife Conservation Commission (FWC). For more information, visit the FWC website.
This Florida boating safety course meets the State of Florida's requirement for basic boater safety education. When you successfully complete the course and exam online, you will receive a course completion certificate by mail or email. We will automatically report your completion to the Florida Fish and Wildlife Conservation Commission for issuance of your Boater Safety Education ID Card if you are covered by Florida's mandatory boater education law.
Florida Boating License
The state of Florida does not have an official boating license. The FWC-issued Boating Safety Identification Card proves that you successfully completed the online boating course and are legally qualified to operate a recreational vessel of 10 horsepower or more. This card is valid for life.
Florida Boating Course — More Information
This course is approved by the National Association of State Boating Law Administrators (NASBLA) and is recognized by the United States Coast Guard. You can also find our course approval on the Florida FWC website.
By successfully completing this approved basic boating safety education course, you may qualify for reduced boat insurance premiums. Please contact your insurance company to see if you qualify for a reduction in your premiums based on your completion of this course.
Those receiving boating citations from law enforcement may be required to take a safe boating course. However, this must be a classroom boater education course — The online course does not meet this requirement.